rRNAFilter V1.1 Manual
1. Prerequisites
rRNAFilter can be run on Linux and Windows with Java and KAnalyze installed:
** Java
You need to install Java 7 (64-bit is highly recommended). To check the version of the Java installed, please input the following command in the terminal:
java -version
The latest version can be downloaded
here.
** KAnalyze
We use KAnalyze to do the k-mer counting.
This tool was included in the software package.
Reference: Audano, Peter, and Fredrik Vannberg. "KAnalyze: a fast versatile pipelined K-mer toolkit." Bioinformatics 30.14 (2014): 2070-2072.
The KAnalyze commands are in the same folder with rRNAFilter command.
---
2. Input Parameters
We just need to input reads in fasta format from metatranscirptomes to run rRNAFilter:
There are two modes to run rRNAFilter:
rRNAFilter_m1:filter rRNA reads confidently, and leave a small number of reads unfiltered.
rRNAFilter_m2:filter all rRNA reads (default option)
---
3. Software Usage
We have both command line and GUI versions of rRNAFilter on Linux and Windows.
(1) In terminal, use the following command to run rRNAFilter:
java -jar -XmxN rRNAFilter.jar -i reads_file -r 0
-XmxN(for example:-Xmx7g): Specify the maximum size of the memory allocation pool for a Java Virtual Machine (JVM)
-i (required) reads_file: file in FASTA format
-r (optional) 0: filter all reads; 1: filter reads confidently, by default r=0
There are two modes to run rRNAFilter .
r=0: filter rRNA reads from all reads.
r=1: filter rRNA reads initially, without the step to assign the small number of unfiltered reads to the trained Markov chains. So there are still a small number of reads unfiltered.
(2) We also provide GUI version of rRNAFilter, as shown below: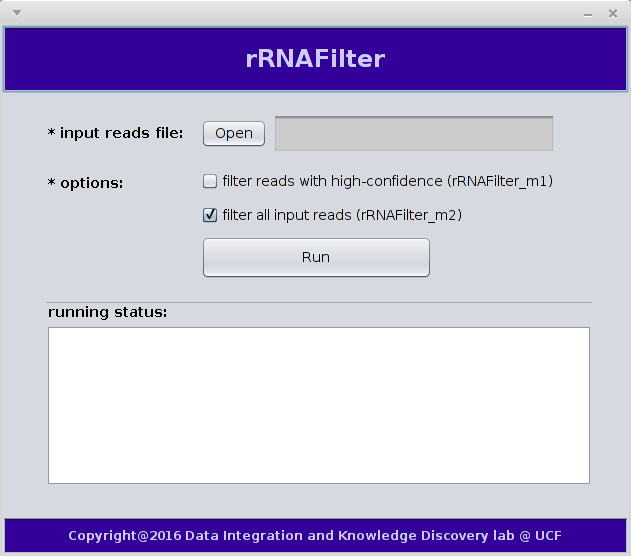 ---
4. rRNAFilter Results
rRNAFilter will output two files, one file contains predicted rRNA reads and the other file contains predicted non-rRNA reads, the output file names are listed below:
readsFile_rRNA
readsFile_non-rRNA
readsFile_non_filtered (if r=1, this is the group of unfiltered reads)